The GRT-INSPIRED is a partnership among the University of Johannesburg, the University of Pretoria, and the University of the Witwatersrand, Johannesburg. It combines the expertise of Wits RHI, UJ Water and Health Research Centre, and UP Department of Family Medicine. This collaboration adds a range of skills in different disciplines to address urban health challenges, including water and sanitation issues. Wits RHI focuses on health research in Hillbrow, UP Department of Family Medicine operates clinics in Atteridgeville and Melusi, and UJ contributes to the urban health chain. Together, they work towards improving healthcare in Gauteng, particularly in informal settlements.
Hillbrow, despite its small size on the map, is densely populated. Atteridgeville is a predominantly an African township with formal and backyard dwellings, including the large informal settlement known as Jeffsville (known by locals as 'Gomorrah'). Melusi, a relatively new settlement, has grown rapidly over the past decade and is located on previously vacant land. People began erecting structures there towards the end of the first decade of this century, now standing at some 30 000 people in sections 1, 2 and 3. The Small Area Layer (SAL) of Melusi appears large due to its historical designation for farming and lack of population. This demonstrates the rapid changes occurring in Gauteng.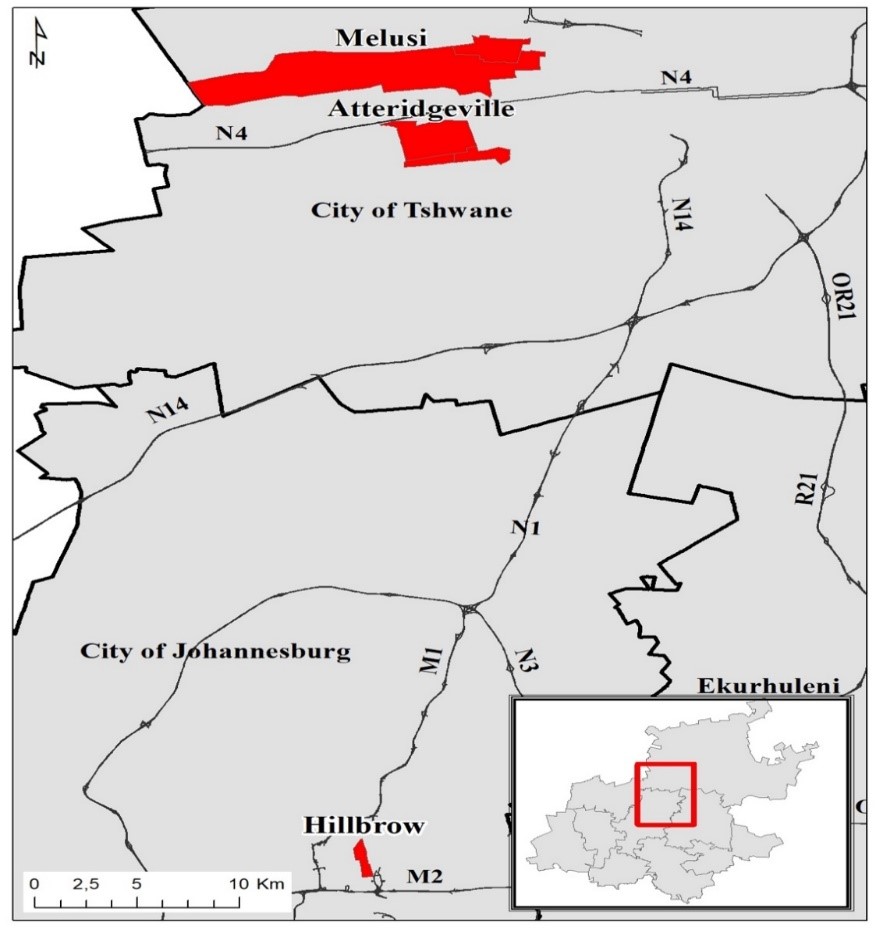 Hillbrow is characterized by high-rise apartment buildings, but it poses significant challenges for fieldwork due to its fast-paced and risky environment. Drug trading and street crime are common, making data collection difficult. While some apartments are well-maintained and provide a convenient central location for residents and field teams, many others are neglected. These "captured" buildings, often managed by criminal gangs, are in poor condition, lack basic services, and pose severe health hazards. Despite the known challenges, we are determined to make the Health and Demographic Surveillance System (HDSS) work in this urban context.
In Atteridgeville, which was established in 1939, the urban landscape presents a distinct contrast to Hillbrow. Instead of vertical apartment buildings, Atteridgeville features matchbox township houses and sprawling backyard dwellings. In the 2011 Census, the Atteridgeville sub-place covered an area of 7.25 km², with a population of approximately 43,000 people residing in 11,000 households. GRT-INSPIRED operates within Atteridgeville West, which is generally the poorer part of the township and includes the informal settlement of Jeffsville. This location serves as a microcosm of Gauteng, encompassing township, backyard, and informal dwellings within a single site – a microcosm of Gauteng in many ways.
Melusi, in Census 2011, occupied a relatively empty space with only a few scattered shacks. The forthcoming Census 2022 will provide a clearer understanding of its size. The western suburbs of Pretoria were originally developed to accommodate working-class white individuals employed in nearby steelworks and the Coca Cola factory. Melusi shares an almost seamless border with the suburb of Daspoort, where apartheid's spatial planning enforced divisions between black and white areas using natural features like rivers or manmade structures like highways and light industries. However, post-apartheid urbanism has removed such boundaries, allowing Daspoort to blend into Melusi. Some former white residents of Daspoort now reside in the informal settlement. Melusi, consisting of three sections and expanding, is situated around old but highly polluted dams, positioned between formal suburban areas and the nearby hillside. It is estimated that approximately 30,000 people currently reside in Melusi, a figure to be adjusted upon the release of Census 2022. Unlike Jeffsville, which is surrounded by formal dwellings, Melusi has more freestanding structures with open spaces between and around them, eliminating the need for consolidating individual structures into larger collective compounds.
GRT-INSPIRED was commissioned by SAPRIN in mid-2020, just as the COVID-19 pandemic hit South Africa. Its planning and design work happened under lockdown, and the teams first ventured into field in April 2021 (to face more lockdowns as the virus changed). GRT-INSPIRED completed a COVID-19 attitude survey, and a seroprevalence study in all sites, in 2021. Its baseline ended in 2022, and 2023 will see the first full year of fieldwork. It will also see a further investment into providing solar energy to Melusi, as a national exemplar to government about how to serve the poorest communities in urban spaces.
Contact GRT-INSPIRED
Gauteng Research Triangle – Understanding the space we inhabit (grt.ac.za)
Get in touch via david.everatt@wits.ac.za or nadine.naidoo1@wits.ac.za